03/12/21 12:20
2020 The Coronavirus Edition, Them Changes.
When the gigs and life as we knew it stopped and the focus became staying in and staying healthy:


Ray Mantilla passed away close to a year ago the week of the coronavirus shut down in New York City. I worked for Ray the past 18 years becoming his de facto right-hand man and small-group music director. He was a historic figure in the jazz and Latin music world. He was also a bigger-than-life character and his energy is greatly missed. His last recording
Rebirth
was recorded December 2019 and was released in June 2020. His passing was sad but perhaps timely. It would have been very difficult for him sitting around with no gigs on the calendar. Little did we know that there would be so many other great musicians passing away in the months that followed.


Like most of us, I spent a lot of time at home over the past year. Thursday March 12th, 2020 was my last gig before the the city and the country closed down. All gigs after that were cancelled including a trip to my home town Omaha to do some local gigs in early April. Since then many of the places I used to play here in the city have closed forever. I did end up with one Son Boricua gig in July performing outdoors at, of all places, Corona Park in Queens! Despite promises from the promoter there ended up being hundreds of people, many not wearing masks, packed way too close together and way too close to the band. It was fortunate that none of us caught the virus that day. It's not something I would do again.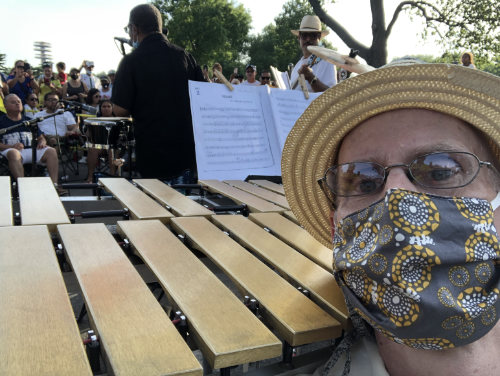 Music greatly helped navigate this sometimes unbearable reality. My 2020-2021 at home shelter-in-place time was filled working extensively on the production end of a new ZonaVibe CD that was recorded in October 2019. It was scheduled to be released in spring 2020 but moving forward with it did not make sense at that time under the circumstances. I look forward to sharing this recording with everyone, soon in 2021! I also spent time editing video, both of my 2019 concert at New York City's Times Center, and of video from the recording session of this upcoming CD.

I've been recording vibe tracks from my studio for an interesting upcoming project I'm currently not able to discuss and spent a lot of time playing through the Thesaurus of Scales and Melodic Patterns, a book my oldest sister gave me as a gift about 35 years ago. I was also listening and digitizing very old reel-to-reel tapes of my playing and compositions. I found recordings as far back as myself playing drums at 8 years old on into my teens, and college tapes as a vibraphonist. I even found some recordings of my father's voice giving commentary before a junior high concert! It was, for me, a fascinating retrospective of my musical life. Lock-down time was also spent organizing sheet music of nearly 200 hundred compositions of mine from the 1980s through 2019! The newest ZonaVibe recording marks 70 original compositions of mine that have been recorded and released.

As time dragged on I continued my introspect retrospection and began revisiting a lot of tunes I used to play all the time but haven't look at for over 25 years. Many were pivotal in my development as a musician including the music of Gary Burton, Keith Jarret, Chick Corea (who just recently passed away as well), Pat Metheny, and Wayne Shorter. I also spent time listening to records and tapes that were totally influential to me during my teenager and college days. I was instantly transported back in time with the same sense of happiness I felt listening to the music in my basement as a kid, driving in my car as a teenager, on through my college dorm days. It felt like I was a student all over again. There's a book called
Zen Mind Beginner's Mind
that preaches one should approach everything as if it's new and with the same enthusiasm a beginner, eager to learn, would have. Going back to that music after all these years was energizing, uplifting and totally refreshing.

The pandemic along with constant political news headlines prompted a photo project too. I started taking photos of the front page of the New York Times together with the front page of the business section. I've now done this for a year straight and it is very interesting to scroll the headlines and review what all happened during this extraordinary time!

2020 was hard for everyone. I found myself often looking out the window to empty streets and apartments across the street and thinking about the scene from the movie
Ghost Story
where two lonely souls in neighboring houses look at each and meekly wave, neither able to make contact with anyone in the real world.

2021 has so far been more of the same but with a few rays of hope. At this point I'm simply letting music be the guide. I did just receive word that I'm once again a 2021 Lower Manhattan Cultural Council grant recipient. I now look forward to being in touch in the coming months for both the recording and to announce some up-coming summer/fall concerts funded by this grant. I hope to see you soon at a performance in a post-pandemic world!

Best Wishes and Music To All.