Links to current MIKE FREEMAN recordings, videos, photos, reviews
Times Center NYC, - Stevens Point, WI - Dobbs Ferry, NY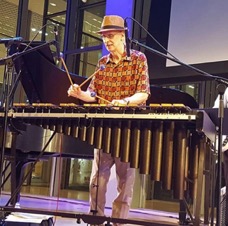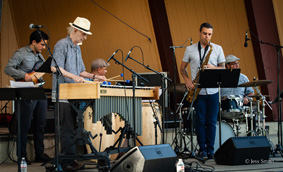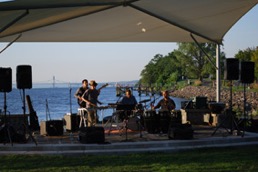 Mike Freeman
Individual CD recording links and info below:
Mike Freeman ZonaVibe Circles In A Yellow Room - coming soon
Guido Gonzalez - Trumpet, Jim Gailloreto - Saxophone, Ruben Rodriguez - Bass, Roberto Quintero - Congas, Joel Mateo - Drums
–––––––––––––––––––––––––––––––––––––––––––––––––––––––––––––––––––
Venetian Blinds 2018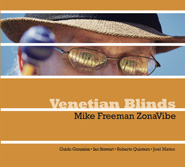 Listen on
Bandcamp
Soundcloud
Mike Freeman ZonaVibe - Venetian Blinds
2018
Reviews
"frost-fresh…with off-beat rhythms driven hard"
Latinjazznet
Sept. 27, 2018 –Raul da Gama
"MOST HIGHLY RECOMMENDED, with an "EQ" (energy quotient) rating of 4.98"
Contemporary Fusion Reviews
Aug.10, 2018 –Dick Metcalf
"Swinging sounds that are reminiscent of vintage Cal Tjader sessions…irresistible grooves. Oye!
"
Jazz Weekly
November 1, 2018 –George Harris
Following
Blue Tjade
, his tribute to Cal Tjader,
Venetian Blinds
is a tip of the hat to Tito Puente and Bobby Hutcherson. When Tito Puente rolled his vibes in during the early days of the Palladium, people would say, "Here comes Tito with those venetian blinds!"— referring to the strung-together bars of the instrument. Four of the tracks on this recording were written for El Rey Tito Puente: "Those Venetian Blinds," "Mambo Kings," "Night Crawlers," and "Qué Tal Tío" (What's Up Uncle). Another three go out to the late vibraphonist and NEA Jazz Master Bobby Hutcherson: "Clutch the Hutch," "Bobby Land," and "House of Vibes."
The all-new lineup for this outing features stalwarts of the New York Latin music scene: trumpeter
Guido Gonzalez
and conga master
Roberto Quintero
, along with up-and-coming players
Ian Stewart
on bass and
Joel Mateo
on drums.
–––––––––––––––––––––––––––––––––––––––––––––––––––––––––––––––––––
Blue Tjade 2016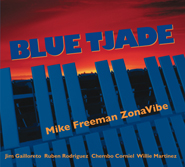 Listen On
Bandcamp
SoundCloud
Mike Freeman ZonaVibe - Blue Tjade
2016
Reviews
"Latin jazz doesn't get any better than this" Allaboutjazz Aug 9th, 2016 –Mark Sullivan
"…Freeman is wildly talented on the vibraphone" Classicalite 1-27-16 –Mike Greenblatt
View Blue Tjade
CD cover Artwork
Blue Tjade
continues Mike Freeman's multicultural beat with a tip of the hat to Cal Tjader. Grounded in jazz, Latin jazz, and salsa, Mike offers a unique group sound through his music, playing, and instrumentation. This outing features stalwarts of the New York music scene: bassist Ruben Rodriguez, conga master Chembo Corniel, and drummer/percussionist Willie Martinez. Chicago's highly regarded Jim Gailloreto rounds out the group on tenor saxophone and flute.
–––––––––––––––––––––––––––––––––––––––––––––––––––––––––––––––––––
The Vibesman 2012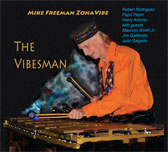 Listen On Bandcamp
Mike Freeman ZonaVibe -The Vibesman
2012
View The Vibesman
CD cover Artwork
Reviews
The Vibesman
thrives on its multicultural beat with a set of Latin jazz music that captured the attention of many. Along with the vibes, this recording features conga master Papo Pepin; Harry Adorno on timbales; and bassist Ruben Rodriguez. The fabric of the music here is bolstered by the flute of Mauricio Smith Jr. and the tenor saxophone of Chicago's Jim Gailloreto. For the surprise grand finale, Mike is joined by highly regarded salsa singer and longtime colleague Julio Salgado.