MIKE FREEMAN INTERVIEWS:
Hudson River Park
July 9, 2019
Jazzbluesnews
January 6, 2019 –Simon Sargsyan
REVIEWS OF MIKE FREEMAN MUSIC:
Mike Freeman ZonaVibe
Venetian Blinds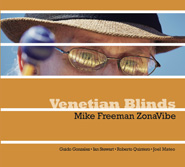 Take Effect Reviews
January 13, 2019 –Tom Haugen
"Swinging sounds that are reminiscent of vintage Cal Tjader sessions…irresistible grooves. Oye!"
Jazz Weekly
November 1, 2018 –George Harris
"frost-fresh…with off-beat rhythms driven hard"
Latinjazznet
September 27, 2018 –Raul da Gama
Music Zoom
Italy September 9, 2018 –Vittorio Lo Conte
"Nice Swinging Latin Jazz"
Keys and Chords
September 3, 2018 –Patrick Van de Wiele
"It's as if Freeman is tipping his hat to the past while passing on his gift and seeing the vibrant world he's leaving for the next generation".
JW Vibe
August 29, 2018 –Jonathan Widran
Musical Memoirs
August 29, 2018 –Dee Dee McNeil
Jazzquad
Russia, August 17, 2018 –Leonid Auskern
Art Music Lounge
August 16, 2018 –Lynn René Bayley
Solar Latin Club
Colombia, August 2018 –DJ El Chino
"MOST HIGHLY RECOMMENDED, with an "EQ" (energy quotient) rating of 4.98"
Contemporary Fusion Reviews
Aug.10, 2018 –Dick Metcalf
————————————————————
Mike Freeman ZonaVibe
Blue Tjade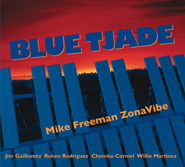 "…strongly melodic Latin excursions"
High Standard Jazz
Short Take May 27, 2017 –George Fendel
"Latin jazz doesn't get any better than this"
Allaboutjazz
August 9th, 2016 –Mark Sullivan
"irresistible groove", "very spirited music"
Jazz & Blues Review
, June, 2016 –Ron Weinstock
"Freeman's a formidable composer", "Cool My Curry Down is a funky gem"
Jazz Journal
, May, 2016 –Brian Morton
"The Soul of Cal Tjader Smiles"
Jazz Caribe
April, 2016 –Luis Raul
"a fitting tribute to Cal Tjader", "wonderful bluesy pieces"
Jazz Weekly
April, 2016 –George W. Harris
"enormously impressive"
Latinjazznet
April 3, 2016 –Raul da Gama
"…Freeman is wildly talented on the vibraphone"
Classicalite
January 27, 2016 –Mike Greenblatt
"brilliantly played…", "The music cooks; it burns; it swings…"
JazzProfiles
March 2, 2016 –Steven A. Cerra
"Freeman brings the Latin jazz vibe tradition front and center, parking it vividly and beautifully in our faces."
Musical Memoirs
March 12, 2016–Dee Dee McNeil
"loose and warm"
CD Hotlist
April 6, 2016–Rick Anderson
"Killer stuff that really resonates"
Midwest Record
January 16, 2016 –Chris Spector
Highlands Magazine
April 2016, 078 (French Language) –Jean-Pierre Schricke
Musiczoom Italy
February 11, 2016 –Vittorio Lo Conte
Jazzquad Russia
February 10, 2016 –Leonid Auskern
—————————————————— ——
Mike Freeman ZonaVibe
The Vibesman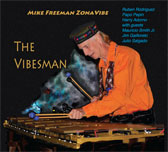 Mike Freenman is "masterful", the music is "…percussion soaked", "…a multicultural brew of vibrant optimism and Latin and world jazz grooves.", " 'Blue' is a piece of gorgeous tranquility…."
Allaboutjazz Review
April 24, 2012 –Dan McClaneghan
"Freeman's improvisations are excellent... I highly recommend this CD, as Freeman is not only carrying on the Latin jazz vibe tradition, but is also bringing his unique voice and substantial contribution to the genre." Percussive Notes,
Percussive Arts Society
(PAS), 2012 –Jeff Moore
Latinjazznet Review
–Raul da Gama
Nighttime Jazz
–Ekkarn
Timba.com
–Bill Tilford
————————————————————
Mike Freeman ZonaVibe
In The Zone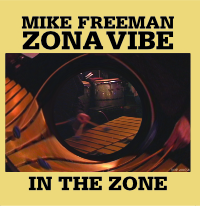 "…a top notch Latin jazz quintet that often sounds like a bigger band."
All Music Guide
, 2007–Ken Dryden
"…a remarkable tour de force" "Highly recommended."
Jazzreview.com
,
2007 –Lee Prosser
"… In The Zone stand on its own as an intoxicating Latin Jazz gem." "…highly developed chops and inventive improvisations." "…Freeman's writing adds just as much as his playing."
Latinjazz Corner
, 2007 –Chip Boaz
Descarga.com Editor's Pick:
Vibe and marimba player Mike Freeman's intrumental ensemble Zona Vibe interprets these mostly all original compositions with a sultry sabor that intoxicates. Their sound seems to gently parachute down ...and melt in your ears. With a wonderfully seasoned Latin rhythm section that features Little Johnny Rivero on congas, bassist Ricardo Rodriguez, and timbalero Harry Adorno. Bruce Saunder's guitarwork delivers added detail and color to the work. A special treat is Freeman's rendition of the Jimmy Sabater / Joe Cuba classic "A Las Seis." After listening to In The Zone I heard myself saying "Damn, what a beauty." Enough said. Highly Recommended. (BP, 2007-06-22)
———————————————————
Mike Freeman
Wiggle Stomp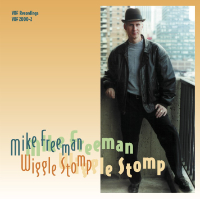 Four Stars –Allmusicguide.com
"Freeman's undertaking has flair for melodic creativity, colorful instrumentation, and rhythmic bounce which when combined with the South of the Border rhythms, make this an attractive addition to the collection." –Dave Nathan, Allaboutjazz.com
"Wiggle Stomp a refreshing new feel with no pretentions ... it delivered mightily". –Butch Berman, Jazz newsletter Berman Music Foundation
Mike Freeman is "obsessed with the wide variety of rhythms and percussion techniques common to all forms of Latin music, and his work here clearly reflects that fascination." –Jazztimes
"Mike Freeman brings a very fresh and eclectic approach to the his CD Wiggle Stomp. ...the titles are all nutty and reflect the playful, completely original approach to the music. The material here is diverse (and strong)..." - Luis Moreno Jazz Buffalo, Moderator Yahoo Latinjazz group
———————————————————
Mike Freeman & Spellbound
Street Shuffle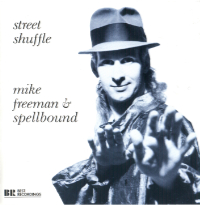 Mike Freeman "... a melodic interpreter as well as a master soloist." –Gavin
"The natural versatility of the vibes is exquisitely expressed by Mike Freeman... Discovering Mike Freeman & Spellbound will be truly serendipitous for us all." –MAC Report
"Everyone should enjoy this one [Street Shuffle]; it's a hot album...it's apparent that he's been performing and woodshedding for years." –The Music Independent
Freeman's vibraphone... "It floats and bops creating excitement...the best place for Street Shuffle is in your CD player." –PAS, Percussive Notes
"Freeman's sensitive touch and flowing melodicism warrant attention." –Chuck Berg, Jazztimes
"...a smooth hynotic path filled with mesmerizing solos by Freeman." –Chicago Jazz Bulletin
"... a cut above..." –Cadence
———————————————————
Misc. Reviews
:
Mike Freeman & Spellbound "Excellent Show!" Bucknell University, PA -NACA Campus Activities
Mike Freeman is "exceptional" and "dedicated to the highest standards of jazz improvisation." –Ralph Towner
Mike Freeman with his vibraphone and four mallets, makes a combination that is unbeatable." –O Diario, Lisbon
"Mike Freeman...vibraphone player with a high technical level and excellent melodic and harmonic creativity." "The hypnotic power of the vibraphone was a winning atmosphere." –Diario de Noticas, Lisbon