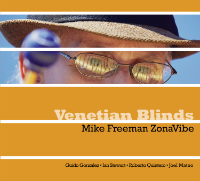 Mike Freeman ZonaVibe,
Venetian Blinds
VOF recordings, 2018
CD playing time 54minutes
Continental US shipping and handling
$4.50 one item, add .50 cents per additional item
*International shipping $16, add $1 per additional item
Credit Card payments with PayPal - it's fast, free and secure!
"frost-fresh …with off-beat rhythms driven hard" Latinjazznet Sept. 27, 2018 –Raul da Gama
"MOST HIGHLY RECOMMENDED, with an "EQ" (energy quotient) rating of 4.98" Contemporary Fusion Reviews August 10, 2018 –Dick Metcalf
"Swinging sounds that are reminiscent of vintage Cal Tjader sessions…irresistible grooves. Oye!" Jazz Weekly November 1, 2018 –George Harris
Jazzweek Radio Highest Debut 9-17-18

Songs on this CD include:
1. House Of Vibes
2. Mister Snacky
3. Bobby Land
4. Those Venetian Blinds
5. Clutch The Hutch
6. Mambo Kings
7. What's Up With This Moon
8. Night Crawlers
9. Fancy Free
10. Qué Tal, Tío (What's Up Uncle)
Following "Blue Tjade", Freeman's tribute to Cal Tjader, "Venetian Blinds" is a tip of the hat to Tito Puente and Bobby Hutcherson. When Tito Puente rolled his vibes in during the early days of the Palladium, people would say, "Here comes Tito with those venetian blinds!"— referring to the strung-together bars of the instrument. Four of the tracks on this recording were written for El Rey (the King) Tito Puente: "Those Venetian Blinds," "Mambo Kings," "Night Crawlers," and "Qué Tal Tío" (What's Up Uncle). Another three go out to the late vibraphonist and NEA Jazz Master Bobby Hutcherson: "Clutch the Hutch," "Bobby Land," and "House of Vibes."
The all-new lineup for this outing features stalwarts of the New York Latin music scene: trumpeter Guido Gonzalez and conga master Roberto Quintero, along with up-and-coming players Ian Stewart on bass and Joel Mateo on drums.
MFZV Ornament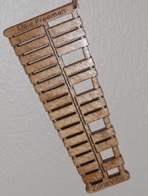 actual size aprox. 5"