*Note
- New York State Residents,
Do Not
make a purchase from this Web Site at this time! Please make your purchase at one of the many other web sites the CD is available at. Thanks for your help in this regard and sorry for the inconvenience.
Credit Card payments with PayPal - it's fast, free and secure!
US shipping and handling
$3.50 one item
$4.00 two items
*International shipping $15
***Huge Over Stock Blow Out Sale We need to move out 300 units!!!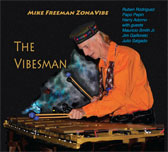 Mike Freeman ZonaVibe,
The Vibesman
VOF Recordings, 2012
CD playing time 54 minutes

10 weeks JazzWeek Radio Chart #26 July 30, 2012
several weeks Roots Music Chart #9 July 20, 2012
Review
AllaboutJazz
Listen to The Vibesman
Be patient, this player starts with a few seconds of silence
Songs on this CD include:
1. Jigsaw Puzzle
2. Drifting
3. Lucky 7
4. So Long, Just Walking By
5. Vibe Descarga
6. Blue
7. Too Groovy
8. MongoMarley
9. Sahara Sunrise
10. Trolley Car
11. Vibe Descarga y Voz
The Vibesman
thrives on its multicultural beat with a set of music that captured the attention of many. Grounded in jazz, Latin jazz, and salsa, Mike offers a unique group sound through his music, playing, and instrumentation. Along with the vibes, this recording features conga master Papo Pepin; Harry Adorno on timbales; and bassist Ruben Rodriguez. The fabric of the music here is bolstered by the flute of Mauricio Smith Jr. and the tenor saxophone of Chicago's Jim Gailloreto. For the surprise grand finale, Mike is joined by highly regarded salsa singer and longtime colleague Julio Salgado.
Click to see
The Vibesman Backers
who made this recording possible.
Behind the scenes of "The Vibesman" recording session Part1

Behind the scenes of "The Vibesman" recording session Part2

Behind the scenes of "The Vibesman" recording session Part3