*Note
- New York State Residents,
Do Not
make a purchase from this Web Site at this time! Please make your purchase at one of the many other web sites the CD is available at. Thanks for your help in this regard and sorry for the inconvenience.
Credit Card payments with PayPal - it's fast, free and secure!
US shipping and handling
$3.50 one item
$4.00 two items
*International shipping $15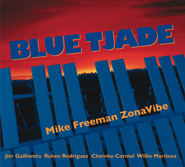 Mike Freeman ZonaVibe,
Blue Tjade
VOF recordings, Dec 2015
CD playing time 58 minutes

Blue Tjade was part of WBGO's (Newark, NJ) 2016, winter fund drive Latin package!
#18 Jazzweek Radio Chart Mar. 7th, 2016 (5 weeks in the top 22)
"Latin jazz doesn't get any better than this" –Mark Sullivan, Allaboutjazz
"…Freeman is wildly talented on the vibraphone" –Mike Greenblatt, Classicalite
Mike Freeman Blue Tjade Reviews
Listen to Blue Tjade
Be patient, this player starts with a few seconds of silence
Songs on this CD Include:
1. Cascade
2. Cool My Curry Down
3. Blue Tjade
4. Dance of the Dead
5. Pendulum
6. Snow Flake
7. Clockworks
8. Making Conversation
9. Agua y Piedra
10. Low Rider
Blue Tjade
continues Mike Freeman's multicultural beat with a tip of the hat to Cal Tjader. Grounded in jazz, Latin jazz, and salsa, Mike offers a unique group sound through his music, playing, and instrumentation. This outing features stalwarts of the New York music scene: bassist Ruben Rodriguez, conga master Chembo Corniel, and drummer/percussionist Willie Martinez. Chicago's highly regarded Jim Gailloreto rounds out the group on tenor saxophone and flute.
Blue Tjade in the Studio "Cool My Curry Down"

Blue Tjade in the Studio "Pendulum"

Blue Tjade in the Studio "Cascade"